104,024 Global CONWAY Family Members
Days
Hours
Minutes
Seconds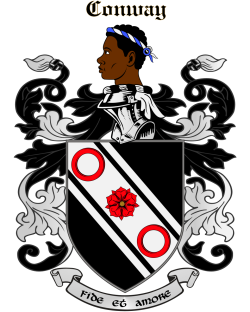 CONWAY
Family Room
Next Event:
Sunday 17th December
2pm (New York), 7pm (Ire)
Live
Days
Hours
Minutes
Seconds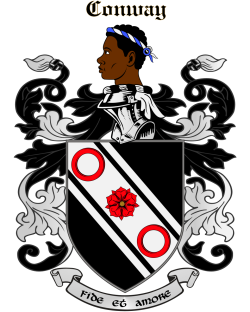 CONWAY
Family Room
Next Event:
Sunday 17th December
2pm (New York), 7pm (Ire)
Live
Our in-person family gatherings
Our TEDx talk about family gatherings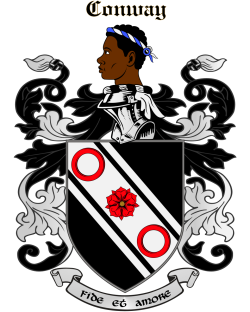 Design your own CONWAY Family Crest
CONWAY Family History
CONWAY of Irish Origin
Ó Connmhaigh - anglicised as Conway, earlier as O Connowe. The root is Connmhach, possibly 'head smashing'. A variant is Mac Connmhaigh, the former certainly early, as found in the Annals of the Four Masters in 1360: 'Gilla na-naev O Conmhaigh, chief professor of music in Thomond, died'. This was a Dalcassian sept, principally of Thomond (Clare and Limerick), later also found in West Cork and Offaly. Woulfe says the name was also found in Cavan and Roscommon ('Sloinnte Gaedheal is Gall', 1923). The presence of Conway in considerable numbers in Co Kilkenny in the 1659 'Census' suggests the name spread there also.
Ó Conbhuidhe - anglicised as Conway, Conwy, earlier Conboy & c., the root is 'cu buidhe' or yellow hound. Two families of the name existed in early times: that of the Uí Fiachrach (descendants of Fiachra, brother of Niall of the Nine Hostages, circa 4th century) who inhabited the barony of Tireragh in Co Sligo; and that of the Uí Mhaine (descendants of Maine Mór, an ancestor of the Orghialla i.e. Oriel) in Co Galway.
Ó Connmhacháin - anglicised as Conway and less as Kanavaghan and earlier as (O) Connoughan. The name is possibly a diminutive of Connmhach,v. (1) above. A surname found early on in Sligo, and Woulfe (op.cit.) says also found later in West Ulster and Offaly.
Mac Conmidhe - anglicised as Conamy and Conway. The root is probably 'cú Midhe' or hound of Meath. Meath or Mídhe was the ancient royal centre of Ireland. This name was found mainly in counties Derry and Tyrone in the 17th century.
Sir William Petty's 1659 'Census' of Ireland is an incomplete survey of Irish families and English colonists, undertaken by Cromwell's Commonwealth. Listed as a 'Principal Irish Name' we find:
Co Clare: Bunratty (barony), Conny & Cunny 13 (families).
Co Cork: Kinalmeaky, Connow 9.
Co Offaly: Ballyaboy, Conway 7; Ballycowan, Conway 5.
Co Kilkenny: Gowran, Convoy & Conway 9; Kells, Conway 7; Kilkenny City & Liberties, Conway 6.
Co Cavan is missing from the 'Census'. None found in Co Roscommon.
Co Sligo; Carbry Barony, Canughan 5.
Cos Galway and Mayo are missing from the 'Census'.
Co Derry
Derry City, Henry Conway esq is a 'titulado' or property owner, probably a British settler.
Tyrone is missing from the 'Census'.
Co Antrim
Massareene Barony, Viscount Conway is listed as a property owner in Lisnegarvie parish.
By the time of Griffith's 'Primary Valuation' (1847-64) of Irish households, Conway is found principally in counties Tyrone 184, Mayo 164, Kilkenny 144, Limerick 114, Clare 103, Sligo 96 and Tipperary 88. The Conway spelling was the most numerous form by far with 1594 entries, the nearest variant being McConway with 44.
The birth registration figures for 1890 show most Conways in counties Mayo, Tyrone, Dublin and in Munster generally.
R.E.Matheson's 'Varieties & Synonyms of Surnames...in Ireland' (1901) lists the following 'variants' of Conway, and, unless they were general, the districts where they were recorded: Conaway; Conmee (Magherafelt, Derry); Connaway; Conoo & Cunnoo (Birr, Offaly); McConamy (Cookstown, Tyrone); McConaway; McConomy (Derry; Omagh, Tyrone); McConway (Inishowen, Donegal).
Two Famous Conways:
Kit Conway (1897-1937) born in south west Tipperary, Kit Conway's name is synonymous with heroism, dying in the Battle of Jarama in the Spanish Civil War. His early life was spent working for a local farmer; he was highly motivated to learn, and was largely self educated. He joined the British Army in 1915, despite being a Republican separatist. He soon parted company with them, however, by feigning insanity! He fought in the Tipperary IRA during the War of Independence (1920-21). In the ensuing Civil War (1922) he joined the pro-Treaty Free State Army. He became disillusioned with the brutal conduct of the war by the pro Treaty side and deserted to fight in the last months with his erstwhile comrades on the anti-Treaty side. After helping to rebuild Connolly's Irish Citizen Army in Dublin in the 30s, and joining the Communist Party of Ireland, Conway volunteered to fight with the forces of the Spanish Republic against Franco's rebels in the Spanish Civil War (1936-39). He died of wounds received at the Battle of Jarama on 12 February 1937.
William Conway (1913-1977) born in Belfast, became the Archbishop of Armagh and Primate of All Ireland in 1963, and was admitted as a Cardinal in 1965. His father, Patrick Conway (Patrick was a popular name among all Conway tribes) was a house painter in Belfast. He was the 'Cardinal of the Troubles' that erupted in the north after 1969. He went on record to condemn both the British Government's decree of Internment and the Provisional IRA's response. He coined the question 'Who in their sane senses wants to bomb a million Protestants into a united Ireland?' He was particularly indignant regarding the tit for tat killings by both sides' paramilitaries; after the shooting of a UDR soldier by the IRA, he used phrases such as 'cruel murder', 'chill of horror', 'barbaric act'...whose agents had 'lost all sense of the sacredness of life and have thereby become less that human'.
CONWAY of British Origin
Conway is also a British name (early on record in Somerset as de Conweye, 1286) one of a number which are identical to common anglicised Irish names (see list below ). Such names borne by Britons were present in Ireland in the persons of officials or settlers in especially the 17th century; see the two Conway 'titulados' in Derry city and Co Antrim, above. This Conway family were originally of Bodrhyddan and Prestatin Co Flint, North Wales and although they may have taken their name from the place Conway/Conwy in North Wales, they may also have received their surname as a variant of the distinct surname Conyers (Oxford Dictionary of Family Names in Britain and Ireland, Hanks, Coates, McClure, 2016; and see below). They held the titles of Baron Conway of Ragley Co Warwick (1624), Viscount Conway of Conway Castle, Carnarvon (1626), Viscount Killultagh of Co Antrim (1626), and Earl of Conway (1629). They also had links with Buckinghamshire and Gloucester. It is their arms illustrated above, 'Sable on a bend, cotised, argent, a rose between two annulets, gules; Crest: a Moor's head' (v. Burke, 'Dormant & Extinct Peerages...' 1883) which are so often seen on websites and in tourist shops in Ireland attached to Gaelic Irish derivations of Conway/O' Conway. This practice occurs also with other well known Irish surnames which are identical to British surnames and has drawn comment from well known Irish authority on arms and family names, Dr Edward MacLysaght R.I.A.
In Wales, the Conway name is strongly associated with the town and borough of Conwy in north Wales, Conway being the anglicised version of the Welsh name. It is today also the name of a Welsh county. This name in turn derives from the river Conwy that flows from Llyn Conwy (Lake Conwy), near Penmachno, to the sea near to the town of Conway.
The surname of the Conway family of Bodrhyddan, Flintshire, north Wales, however is claimed by the family to have been derived from Sir William Coniers, high constable of England under William the Conqueror. One of his descendants, Sir Henry Conway, married Ellen (or Angharad), the daughter of the Lord of Prestatyn. Another descendant, Jenkyn Conway (d.c.1432) married into the powerful Wynn family of Gwydir, Llanrwst.
Unsurprisingly therefore, in Wales the surname was historically associated with the most northerly portion of the country, in particular of course the wider Conway area where it was recorded as a surname during the 16th century, for example a George Conway was baptised in Conwy parish church in 1545, and a Gyles ap Thomas Conway (Gyles son of Thomas Conway) who was baptised in the same church in 1583.
Such early references are also seen on the Hawarden and Cilcain parish registers in Flintshire. In the 17th century, the surname was also recorded elsewhere in north Wales, including for example in Llanycil, Merionethshire (the baptism of an Anna, the daughter of Harris and Jane Conway in 1647) and Llanasa, Flintshire (the baptism of Dorothea, the daughter of Henry and Margaret Conway in 1663).
The surname may also have a Scottish origin: Conway is a parish in Beauly in Scotland, it is a locative name, possibly from Gaelic 'coinmheadh' - billet, free quarters. This locative name may also have given rise to some indigenous Scottish Conways; although many Scottish Conways, with highest numbers in industrial Lanarkshire in 1881, would be of Irish immigrant stock; likewise the origin of many of the numerous Conways of industrial Lancashire (the most numerous county figure in Britain in the 1881 Census).
Sources
1659 'Census' of Ireland, William Petty
1881 Census (England, Scotland and Wales)
Primary Valuation of Ireland (1847-64) Richard Griffith
Varieties and Synonyms of Surnames and Christian Names in Ireland, 1901, R.E. Matheson
Sloinnte Gaedheal is Gall, P. Woulfe, Dublin 1922
Irish Families Series: Irish Families, Dublin 1985; More Irish Families, Dublin 1982, Surnames of Ireland, Dublin 1985, Edward MacLysaght
Welsh Surnames, T.J. Morgan, P. Morgan, Univ Wales Press, 1985
A Dictionary of Surnames, P Hanks F, Hodges, Oxford (OUP) 1988
Dictionary of American Family Names, P Hanks, Oxford (OUP) 2013
The Oxford Dictionary of Family Names in Britain and Ireland, Hanks, Coates, McClure, 2016
Appendix of British names which were used as 'models' in the Anglicisation of Irish names.
Boland, Boyle, Brady, Breen, Buckley, Canny, Carey, Conway, Craven, Crowley, Cullen, Curry, Delan(e)y, Farren, Fearon, Foley, Gavin, Geary, Gorman, Hanl(e)y, Heal(e)y, Hurl(e)y, Hynes, Kelly, Kenny, Larkin, Loftus, Long, Luc(e)y, Lyons, Mullen, Rea, Reaney, Ring, Sexton, Trac(e)y, Tunney et. al.
Who can see your post?
Your post will show up in News Feed, on your profile and in search results.
Public

Anyone on or off Wales101

Friends

Your friends on Wales101

Specific

Only show to some friends

Only me

Only you can see your post
Share and remember important moments from your life.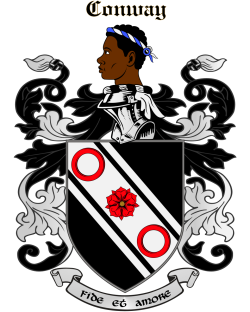 I'm looking to find Conways thats immigrated from Co Tyrone to Canada as USA in the early 90s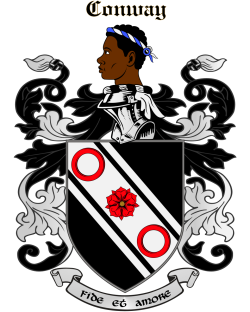 Good evening I am trying to find any Conway from county Offaly Tullamore. I have got as far back as John Conway a shoemaker who died in the workhouse in Tullamore he was my 2x g grandfather. He had nine children with his wife Bridget McGuire one of his sons who is my great grandfather George Patrick Conway.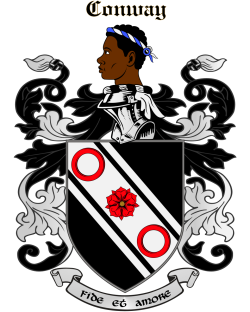 Hi Everyone! Looks like many of us have the same challenge... I have x3 John Conway's' and 4 Patrick Conway's' not to mention the nephews and nieces with the same names as their ancestors. I believe we originated with... wait for it... John Patrick Conway from Sligo. Patrick Conway (John Patricks son) born Sligo Ireland date unknow, d.2 Nov 1806 married Ellen Kearney (Ireland 1620-1911 Birth records) - His son Patrick Conway Jnr b.1811 Sligo Ireland. In 1861 British Census - he is a Cotton Factory Worker aged 21yrs, d.1892 Buried 17 Feb 1892 Liverpool, Lancs, UK. He married Bridget Conway Snr b.1806 (1861 British Census) Res:102 Standish Street Chorley, Lancs, UK. They seem to have 2 sons named Patrick - I assume one died. Patrick Conway b. 1839 - d.1900 - res. 16 Park St Salford (10 Bk Park t Salford). He was a Coach Builder Journeyman and he took Irish labourers to Ellis Island USA. for work. He married Julia Hulichan (Hoolichan, Hoolighan,) b. 1837-39 Ireland. They moved to River Falls or Falls River USA with sons Charles b.29.8.1868 d.2 Feb 1909 41 yrs, who married Ellen Welch (sometimes spelt Welsh or Walch/ Welsh b.9.10.1869 d.12.12. 1944 and Arthur William Conway b 26.6.1873. If any of these details resonate, I'd love to hear from You. Regards Christy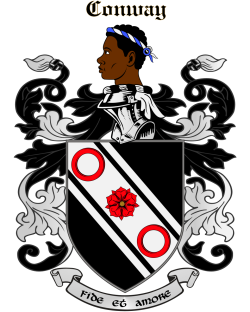 Professor E.J. Conway, (1933-1963).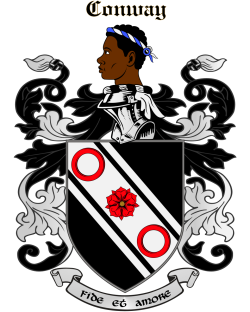 MY NAME IS PATRICK CONWAY - MOTHERS NAME IS MURPHY.( Waterford) I WAS BORN IN CORK, 1955 -FATHER IS FROM BURNCOURT CO. TIPPERARY/ I LIVE IN AMERICA - OLDEST OF 7. WENT TO BOARDING SCHOOL IN MOUNT MELLARY - ( Waterford) in the70s .Would like To move back To Ireland - Interested in Hôtel purchase and creating à CONWAY Memorial for all CONWAYS in thé world To help one another.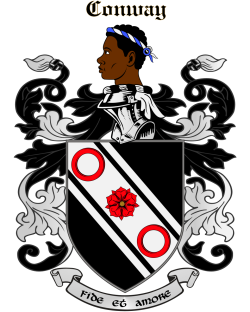 Hello My 3x great grandfather was Patrick Conway he was born in Galway county in 1824 his father was John Conway don't know the name of his mother or if he had any brothers or sisters Patrick married a Margaret Tracey in 1856 in Ashton Under Lyne UK .They lived with Margaret's parents in 1861 in Mossley Ashton Under Lyne. They had 9 children and lived in Mossley until Patrick died in 1887 and Margaret died in 1886.They are both buried in Mossley cemetery along with other Conway family members. Would love some info if I can get any about his father, mother and any brothers ,sisters and any other relatives Thank you x Yvonne Louise Conway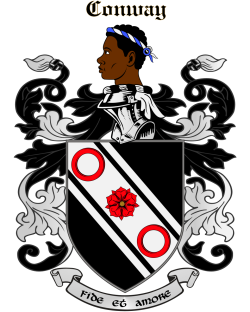 Looking for ancestors and current Conways living in Co Clare. My Conway family tree goes back as far as John and Catherine Murphy Conway born about 1812 in Miltown Malbay and had a son Patrick born 1832. Patrick married Bridget Hinchey in England and they had a son Martin who was born 1855 just before they came to the U.S. They settled in Wisconsin Wood Co. and raised 12 children. Martin is my great grandfather.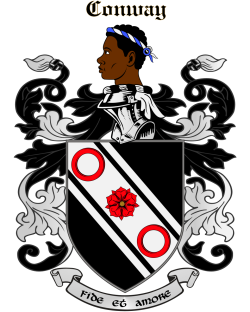 Joseph Conway age 53 DOB 10 04 59 born Salford England Sarah Conway mother DOB 27 11 38 born Tullamore Co. Offlay Daniel Conway Mary Conway Nee Bohan grandparents NO DOB
Areas of Origin for CONWAY
Invite more CONWAY family members!
Write an email address and click 'Invite' to share this page with more members of the CONWAY tribe.
Family Coat of Arms Generator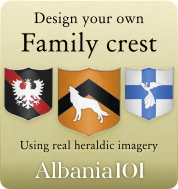 Why not see what your family crest could look like based on your own family characteristics?
Create Crest
Join the Irish Learning Rooms
SHOP
Show off the CONWAY Family Crest…
Wear your crest with pride...plenty of products to choose from