106,350 Global Carey Family Members
Days
Hours
Minutes
Seconds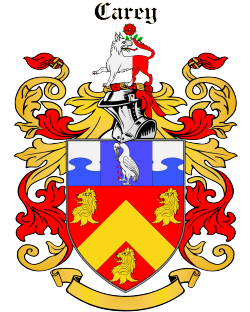 Carey
Family Room
Next Event:
Sunday 17th December
2pm (New York), 7pm (Ire)
Live
Days
Hours
Minutes
Seconds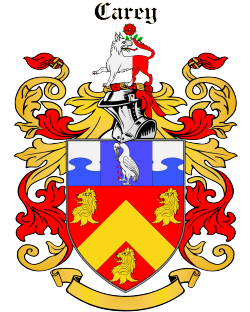 Carey
Family Room
Next Event:
Sunday 17th December
2pm (New York), 7pm (Ire)
Live
Our in-person family gatherings
Our TEDx talk about family gatherings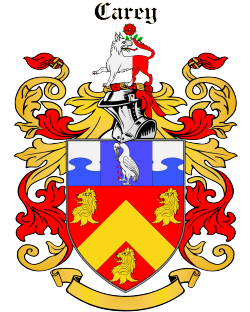 Design your own Carey Family Crest
Carey Family History
1) Ó Ciardha, modern spelling Ó Ciara- anglicised Carey, Keary, earlier as (O) Cary, Kerry, (O) Carie, (O) Kerrye, Kearigh & c. the root is 'ciar' -'dark', 'black'. A sept of the Southern Uí Néill, originally of N.E. Longford (Cairpre Gabra), then 12th century rulers of Cairpre Laigen in modern Co Kildare. They were dispossessed by the Cambro-Normans after the 1170s.
The head of this Uí Néill sept is recorded as 'ua Ciardha, tighearna Coirpre', i.e. O Keary/Carey, lord of Carbury, in AD 952/4 (Annals of the 1V Masters). Ó Dubhagáin (d.1372) wrote of 'Ó Ciardha over Cairbre of poets, of the tribes of Nine-hostaged Niall' and Ó hUidhrín (d. 1420) of 'Ó Ciardha of the red-bladed swords'.
O' Donovan wrote (1862): 'O'Ciardha, now anglicised Keary and Carey, a rather numerous name in the counties of Meath and Kildare', and 'the name is common, but to be found only among the lower orders'.
2) Ó Ciaráin/Ó Céirín root 'céir/ciar' -'dark', 'black', anglicised Kearan(e), Kearin(e), Kerin(s) Kearns, and Carey. Ó Ciaráin was the name of septs in SE Cork and Donegal. Ó Céirín were chiefs in Costelloe Barony, Mayo, recorded in the Annals as Ua Ceirin (1155). There was a Cormac Cary (sic.) recorded in Mayo as early as the 1641 Depositions. Keern/Carey are recorded synonyms in the registers of Ballymena Union in Co Antrim (Matheson, 1901).
3) Ó Cearáin, was anglicised Kirrane/Kerrane and Carey in the 19th century. It is perhaps 'an older form of Ó Céirín' (P. Woulfe, 'Sloinnte Gaedheal is Gall', 1923). R. E. Matheson ('Varieties & Synonyms of Surnames...in Ireland', 1901) records synonymous usage of Kirrane & Carey in the late 19th century in Ballindine, west Mayo. Former Governor of New York, Hugh Carey's ancestor is alleged to be Michael Kirrane, a Mayo man.
4) Ó Ciarmhacháin, Ó Ciarúcáin, Ó Ceiriúcháin & c. root 'ciar'- 'dark', 'black' + 'mac' - 'son', anglicised Carey, also as Irwin, Irvine, Kerwick & c. (see UCD's National Folklore website at dúchas.ie), a surname found in West Cork and other parts of Munster. The Ó Ciarmhaic, derivation as above, (Kerwick) family were rulers of the Eóganacht Aine in S.E. Limerick prior to the Norman invasion, the form possibly mutating into Ó Ciarba (Kirby) later.

5) Mac Fhiachra - anglicised Keary, Carey, earlier phonetically as Keaghry, Keighry & c., the root is 'fiachra' - 'battle king' or 'raven' + 'mac' - 'son'. They were chiefs of Cinel Fearadhaigh, a branch of the northern Uí Néill, in Co Tyrone; also families in SW Galway and Co Meath. MacLysaght in 'More Irish Families' (1982) writes that 'the Co Galway sept Mac Fhiachra 'survives in considerable numbers under the alias of Carey'. DNA testing has linked a Keighry from Galway and a Carey from Donegal (source: Carey DNA Project, online).
6) Ó Carráin/Ó Corráin is cited by Woulfe- anglicised as Carrane, Carrone, Curran(e), Carew, and Carey. This name is possibly a diminutive and cognate of Ó Carraidh/Ó Corraidh, from root 'carra/corra'-spear. It would appear to supply the many 17th century anglicized forms in Co Tipperary (see below). Tipperary had the highest total of Carey households nationally in the mid 19th century, according to Griffith's 'Valuation'. The O Corráin themselves held lands round Mobernan, near Fethard in South Tipperary. Donald O Carrane of Mobernayne, 1586 is mentioned in the 'Fiants'; Conor Carew of Mobarnan was a representative at the Catholic Confederation of Kilkenny, 1642. The Court of Claims, 15th July 1663, has a request for return of Mobernan lands in Tipperary forfeited by 'Teige Carrue alias O Carron'. Brothers, priest Thomas Carue (d. 1672) and royalist soldier Sir Ross Carey (as on Westminster Abbey inscription to his wife Lady Hyde, 1660) are said to be of this family. Although the former denied this and claimed to be a descendant of the Norman Carews (see Thomas Carve, Oxford Dictionary of National Biography). Nonetheless, Woulfe & others have fallen into the error of treating the fairly numerous modern Tipperary Carews at 'face value' as 'Norman'. According to Dr Paul MacCotter, the Cambro-Norman Carews had died out in Tipperary by the end of the 15th c.. (see Paul MacCotter, 'Irish Roots' magazine, 1997). Norman families in the 17th century certainly wouldn't have used Gaelic forenames like 'Teige' or 'Conor' as in Teige Carew and Conor Carrow in the 1664 Hearth Money Rolls for (South) Tipperary. There are many 'Carrane' in the 1659 Census in south and mid Tipperary, 22 families (Iffa and Offa barony), 34 (Middlethird). In the 1664 Hearth Money Rolls: Teige O' Carrane, Laughlin Carrane, Patrick Carine &c.
7) Mac Fhearadhaigh - anglicised McCarry, Carry, McCarey, earlier MacKeary. MacLysaght writes that it is mainly a name of Oriel. In the 1850s (Griffiths op.cit.) there are a few families of McCarey in Belfast and Monaghan, and there are Careys in South Down and Fermanagh, all in Oriel. The largest block (37% in Griffith's 'Valuation') of Carey families in the 6 Counties, however, are in Co Antrim, especially the Glens, and are of native stock.
8) Mac Giolla Chéire - anglicised Keary, Carey, earlier Kilkeary, meaning son of servant of 'Céir', root 'dark', 'black' as 1. & .2. above. Woulfe (op. cit.) says this was once a 'common name in Ireland, especially Co Cork, but now disguised under Keary, Carey and Carr'. MacLysaght gives Kilkenny as the county. McCeary and McCary appear on the Cork & Ross 19th c Catholic Parish Registers.
9) Finally, the Pembrokeshire place name Carew, Welsh 'Caeriw'- fort by the slope, or fort of/by the yew tree(s), has been used synonymously with Carey in Britain. In fact, the local pronunciation of Carew is 'Care-ew' and traditionally it was pronounced as 'Carey'. The surname was brought to Ireland as a cognomen by the FitzGeralds in the late 12th century. Dr Paul MacCotter has indeed claimed in 'Irish Roots' (1997) that the East Cork Norman-Welsh Carews still exist there under the form 'Carey'. Although it is possible that the Cambro-Norman Carews, who appear in the 16th century Fiants as owners of Garryvoe in East Cork, may have died out in the male line by the 1660s (see Brit. Mus. Funeral Certificate MS 4820; v. Carew page). Carey in East Cork (Imokilly) is cited as an Anglicisation of Ó Ciaráin by Dr E MacLysaght,( 'Irish Families', 1985).
In the Tudor/Stuart 'Fiants' we find, 'pardoned': 'Dermot M'Donoghe O' Cary alias m'Donoghowe, lord of Dowally (Duhallow) Co Cork', 1561; Maurice Kerry, Co Wexford, 1561; James Cary, Co Meath, 1582; Wm O' Carie, Co Longford, 1602; Margery Ny Kerrye, Co Cork, 1600; Fynnen Kearigh, Co Cork, 1602; James Cary, Co Cork, 1623; John Kearie & Katherin Kery, Co Limerick, 1653.
In the '1641 Depositions', taken in 1653 after the '41 uprising, appear both native Catholics and 'British' Protestants named Car(e)y. Catholic natives, mostly 'rebels': Laughlin ó Cary, Westmeath; Any ny Cary, Kathrine nee Carry, Rory McCarry et al, Antrim; Tho. ó Cary, Westmeath; Cormac Cary, Mayo; Paul Cary/Carew, Waterford. 'British' Protestants, usually described as 'victims': Sir Thomas Carey, Meath; William Cary, Cork; John Carye, Cork; Richard Cary, Fermanagh.
In Petty`s '1659 Census', listed as a 'Principal Irish Name' are: Co Meath, Scrine Barony, Cary, 7 families; Co Offaly South, Ballybritt Barony, Cary, 8 families; Co Westmeath, Moycashel Barony, McCarey/McCarrey, 20 families; Co Westmeath, Moygoishe Barony, Kegry, 8 families.
In the 1664 'Hearth Money Rolls' for Co Tipperary are ( North Riding): Donnogh O' Chara, Derby Carragh, Uny Carrigh, Rory McCarry, Matthew Carry, Unny Carey; (South Riding): John McCarragh, Morrish Carragh, Michael Carrig, Grainne Carhe, Thomas Carry, Daniell Kyary, David Keary, William Cary, Connor Cary, John Cary, Wm Cary; and Teige Cary in the 'Poll Book' for Clonmel,1661. Also 'Carews', e.g. Connell Carew, Teige Carrow, Piers Corow, Ellice Carrew; plus many Carrane, Carine &c. The existence of Gaelic forenames indicates the native origins of these surnames. It is possible that these early anglicisations point to an Irish origin in Ó Carraidh/Ó Carraigh, of which Ó Carráin is a diminutive.
In King James' Irish Army, 1688-90 (French Records) are Thomas Keary/Cary, ensign, Barrett's Regiment (Cork), and another ensign Kery in Creagh's Regiment.
The Religious Census of 1766 for Co Tipperary has many entries for Car(e)y, all of whom are native 'Papists': e.g. John & Cornelius Cary, Clonoulty; Thomas Keary, Kilfeacle; Daniel Keary, Killea; Laughlin Carey and 4 other Careys, Knockgraffon, Cahir; John Carey/Keary, Lattin; Darby plus 3 other Carys, Soloheadmore &c; Edm Keary, Templenoe. There are several Carews, also Catholic, in Cloneen, Toom & co.
In the 19th century Catholic parish registers, from c.1800, in South Tipperary , the same individuals on the registers appear as Ceary, Keary, Carey and Carew, depending on the scribe.
In Griffith's 'Primary Valuation' (1848-64) the top 6 counties for Carey households were: Tipperary 225 + 2 Cary, Cork 177, Limerick 108, Dublin 94, Mayo 78 + 3 Cary, and Westmeath 64 + 11 Cary. The Ireland total for Carey households is 1,308 + Cary 33. For Keary: most in Tipperary 11, Dublin 8 and Westmeath 7: total Keary 64. All these forms are variants, with Carey becoming the most frequent mid to late 1800s.
The Registrar General's 'Special Report...' (1894) based on births in Ireland for 1890, shows highest occurrences of Carey in Cos Cork, Dublin, Tipperary, Mayo and Kerry.
O' Hart in 'Irish Pedigrees' p 499, (1887) describes the arms for Keary/Carey of Fore, Westmeath as 'azure, a lion passant, guardant, or' with a crest of 'an arm in armour, holding a spear point down, ppr'. The same arms appear under 'O' Carrie/O' Carry' in Burke's 'General Armory', 1884. The arms at the head of this page appear under 'Carey' in Burke (op. cit.) and for 'Carey' in John Rooney's 'A Genealogical History of Irish Families...' New York (1896) with the difference in the latter of 'argent' (silver) instead of 'or' (gold) in the main shield; and in chief (at top) instead of a pelican there is a heron with an eel in the beak.
The arms of an English family of Car(e)y from Devon or Somerset (Burke, 1884) 'argent, on a bend, sable, 3 roses of the first' are often wrongly assigned to Gaelic-Irish Careys by 'heraldic firms', probably because at least two such British landlord families settled in Ireland: a) Cary at Inishowen, Donegal (c. 1600); b) Carey at 'Careysville' near Fermoy, Cork (c.1650) also Clonmel (c.1780). Both families were of Devonshire stock. Of the latter family, in the 1650s a Cromwellian captain, Peter Car(e)y, had an Oliverian grant of lands near Fermoy; and in the mid 18th century two male descendants of his purchased the Inishlounaght Abbey land near Clonmel where they built a mock-medieval residence/folly that became known locally as 'Carey's Castle'. These settler Fermoy/Clonmel Careys are extinct in the male line. Carey is a common native Irish name in these areas, and many Catholic small farmers in the Clonmel area dutifully paid their tithes in 1826 to their namesake, Rev Robert Carey, of that Anglo-Irish family. Ironically, the last groundsman of 'Careys Castle' (it was taken over by the state) was native Tipperary man, Jack Carey, who wrote his name in Irish as Séan Ó Carráin. Even in Donegal, the Inishowen Anglo-Irish family of Cary, owners of Whitecastle, lived in an area alongside eight native (Catholic) Carey farming families (see 1901/11 Census). However, religion is not an axiomatic guide as to ethnicity: small farmers named Quigley (exclusively a native Irish name) as well as Carey are listed as Protestants (Church of Ireland) in northwest Donegal in the censuses of 1901/1911.
British names were used as 'models' in the anglicisations of Gaelic names in the 17th century, e.g. Brady, Boyle, Conway, Kenny, etc. Elizabethan, Sir George Car(e)y of Cockington, Devon was Treasurer of Ireland from 1598-1606.
See also: 'Notes on the Surname Carey', Patrick Carey, Irish Roots magazine, Issue 45, 2003
Notable Careys:

Denis Carey (d. 1798) of Old Leighlin, Co Carlow, was hanged for his part in the 1798 Rebellion. On his way to the infamous court at Hackett's Inn, taken over by the Yeoman, his wife cried out to him as he passed in the cart, bound and fettered, 'Make no more widows!' He replied he wouldn't. He kept his silence.

Patrick Carey (1916 -1994) born in London of Irish father. Acclaimed, award winning Irish cinematographer/film-maker: 'Yeats' Country' 1965, 'Oisin' 1970, 'Beara' 1979. He also did the filming in 'Ryan's Daughter'.


CAR(E)Y of British and French Origin. (see Cary page) .

Car(e)y as a British surname was most numerous in Somerset (1841 Census: 213 Carey, 302 Cary), and probably derives from one of several Cary places on the River Cary there. Devon, where the surname also occurs historically, has a locality so named, on the River Carey, on the Cornish border. The names are Old European/pre-Celtic and probably mean 'stony/hard' from OEur -'karisa' (Wattts, Cambridge 2003). Examples: Sanson de Cari, Devon, 1198. Philip de Kary, Somerset 1203. (Feet of Fines). Another origin may be Cornish, with a like etymology, as in Carey Tor, Bodmin Moor: e.g. Ede Cary, St. Just, 1556 and Eduardus Careye, St. Ewe, 1665, Cornwall. And yet another origin is the Pembrokeshire place Carew (Welsh Caeriw- fort by the yew) which also occurs in similar location names in Cornwall.
Kent and Sussex in the 1841 Census had a high count of Carey bearers (210 + 11 Cary & 194 + 13 Cary respectively). These counties are the home of several romani-gypsy families of Carey. The families have been logged onto the Romany Gipsy Connections website. The 1841 Census there contains Carey bearers with first names Caleb, Dinah, Gemima, Keziah, Rhoda and Samson, names in use among the Romani community at this time.
Carey, a variant of (de) Carrey, is also indigenous to France, esp. Normandy, Burgundy; v. ' Pierrot Carey', Franche-Comté, 1541; 'Loyse Carey', Côte-d'Or, 1575; Mathieu Carey, Calvados, 1625 &c. (www.geopatronyme.com). The Guernsey Carey family are of Norman extraction, probably from Lisieux, Normandy: Johan Caree is recorded on the island in 1288. Cary/Carey, with the meaning of Celtic/preCeltic 'stone, rock' (J-P. Dickes, 'Les Noms de Famille..', 1986) is also indigenous to the Nord-Pas-de-Calais region e.g. François Cary & Jean Cary, Wavrin, Nord, 1669, 1683; and Antoine Carey & Marianne Carey, Broxeele, Nord, 1715, 1765.

Irish immigration must account for many British bearers. Current British telephone directories show highest numbers of Carey located in areas of Irish immigration: Greater London (320), Greater Manchester & Lancashire (272), Kent (163), West Yorkshire (145) and West Midlands (145).
In the 1891 Census, for example, Lancashire had more than twice the number of Car(e)ys than Somerset, 746 to 347.
Pat Carey (editor101)
Y-DNA Research on Car(e)y

On the English speaking World Famiies' Carey DNA Project website we find that the Irish Careys and most British Car(e)ys (Somerset & c.) belong to the same 'broad' Y-DNA haplogroup ('Celtic'/Neolithic) - R1b1a1a2., which reflects the general DNA picture of western Britain and Ireland (Prof. B. Sykes, 'Blood of the Isles', Oxford).
An extreme western branch of this 'Celtic' haplogroup, known as R-L21, which is borne in the highest numbers by far in Ireland (70%+), but which is also found in lesser numbers in Wales , Western Scotland and the English West Country (45%), itself divides into three further Irish subclades: and Irish Careys are scattered across these three separate subclades (source: familytreedna.com/Genographic project/National Geographic).
The six Irish Carey lineages confirmed are from: Tipperary X2 in 'Southern Irish' Group 2, Limerick/Clare in 'Irish Group 3', and Galway/Donegal in in the 'North-Western Irish' Group.
There are two lineages confirmed from England (still in the broad 'Celtic'/neolithic R1b1a1a2) , from Somerset and Buckinghamshire.
2 0ther lineages are confirmed from ouside the R1b haplogroup: one is in the I haplogroup (Scandinavian/Germanic) from Northamptonshire and the other is in R1a (Slavic/Baltic/Germanic); the I haplogroup may represent the Norman Careys.

Of the individuals in the R1b1a1a2 haplogroup as yet not in a lineage, there are 6 confirmed from Ireland (origins inc. Tipperary, Kerry, Mayo, Westmeath), and 2 from England (Somerset and Northants). There are also 2 individuals , one in R1a and one in the I haplogroup.

PC
Join the Irish Learning Rooms
SHOP
Show off the Carey Family Crest…
Wear your crest with pride...plenty of products to choose from